DELIVERING COMMUNITY CARE
WITH COMPASSION
When a tidal wave of need was on the horizon,
the Montreal Jewish community was ready
BECAUSE OF YOUR GENEROSITY.
When a tidal wave of need was on the horizon,
the Montreal Jewish community was ready
BECAUSE OF YOUR GENEROSITY.
FOOD INSECURITY INCREASED ACROSS THE COMMUNITY DURING THE PANDEMIC—MAKING THE ISSUE MORE URGENT THAN EVER
Your gift is providing food relief to our vulnerable community members.
21% of the Montreal Jewish community already experiences food insecurity—a number that greatly increased once the pandemic hit.
With consistent research showing the clear link between food insecurity and a variety of factors, including poor mental health and compromised physical health, barriers to employment, increased social isolation, and withdrawal from communal life, the need to act was imperative.
Your gift enabled Federation CJA, in partnership with The Jewish Community Foundation (JCF), to partner with the largest food security organizations and programs to significantly support the increased demand for food in our community. Thanks to your generosity, we provided smaller organizations and synagogues with grants to provide food around the holidays, ensuring access to healthy food and outreach to isolated community members.
MILLION ALLOCATED AMONG 50 ORGANIZATIONS
to support the provision of emergency food aid for people living in poverty, those who are low income and struggling to meet their basic needs, and for those who lost their incomes overnight
INCREASE
in food and poverty relief since the pandemic began
INCREASE
in Meals on Wheels for vulnerable community members, including seniors and Holocaust survivors, delivered through Federation CJA's funded partners
YOUR GIFT "SAVED MY FAMILY"
Your support means Melanie* and her three children don't have to go to bed hungry.
"I lost my job at the start of the pandemic and immediately started to worry about being able to buy food for my three children. I am so thankful for the support I received—it saved my family and I no longer worry that my children are going to bed hungry."
*Name has been changed to protect privacy. 
FOOD SECURITY IMPACT PARTNERS
GESHER IS FEDERATION CJA'S RESPONSE TO SUPPORT FAMILIES BY HELPING THEM WITHSTAND THE COVID-19 FINANCIAL CRISIS
Your gift is ensuring that the impact is temporary and that community members do not withdraw from Jewish life.
As a result of the pandemic, hundreds of families and individuals in our community were faced with temporary financial hardships and endured some of the hardest times they have ever had to go through.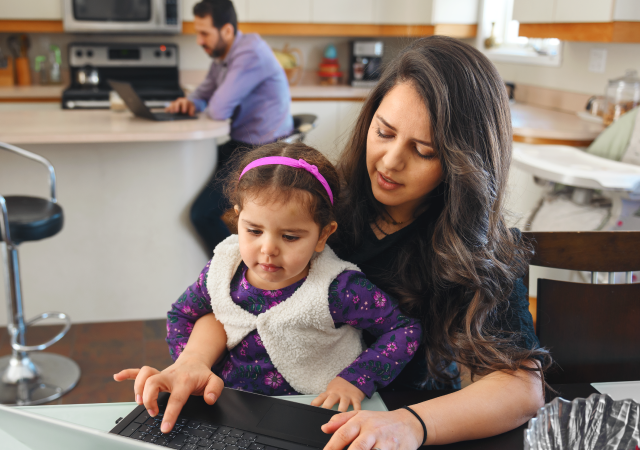 YOUR GIFT HELPED SUPPORT THE TEMPORARILY VULNERABLE:
GESHER APPLICANTS
since the pandemic began
DISTRIBUTED TO 43 SMALL BUSINESS OWNERS
through the Jewish community small business emergency loan program, a partnership with The JCF and Hebrew Free Loan Association